Hospitals & Clinics
Fitzwilliam Hospital
Fitzwilliam Hospital prides itself on providing the best treatment in a relaxed and comfortable environment.
We are fortunate at the Fitzwilliam Hospital to provide the full range of musculo-skeletal and orthopaedic surgical care. We have consultant orthopaedic surgeons with high degrees of specialisation, pain management consultants, back pain assessment and triage specialists and highly trained physiotherapists who are experts in their own right in treatment and assessment. The Fitzwilliam Hospital has the latest imaging facilities, with experienced staff and with musculo-skeletal radiologists.
Throughout the patient's pathway there are designated orthopaedic trained nursing staff, providing leadership in outpatients, theatres and on the wards. We provide a high quality service from highly specialised and motivated staff.
The Fitzwilliam Hospital monitors patient outcomes using questionnaires and patient related outcome measures (PROMS) which show excellent patient satisfaction reports of greater than 90% with regard to hospital and consultant services and very low infection and complication rates generally, no doubt in part due to its consultant led service and high ratio of staff to patients.
We are able to provide the full range of musculo-skeletal investigations, treatment and care for all major private providers, self pay patients and NHS patients.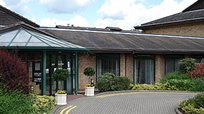 Address
Milton Way,
South Bretton,
Peterborough,
Cambridgeshire
PE3 9AQ