Conditions & Treatments
My Approach to the Knee Joint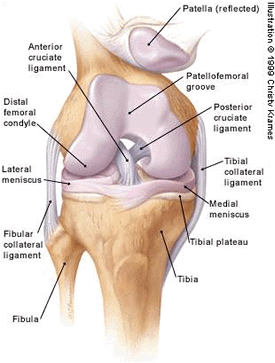 Diagram of knee
To treat a knee problem correctly it is imperative to establish a diagnosis - in other words, you have to know what the problem is before you treat it.
All my patients are thoroughly assessed by taking a full history, performing a physical examination and organizing investigations as necessary before any treatment.
I work closely with Dr Hany Elmadbouh, Consultant Musculo-Skeletal Radiologist, who reports all my scans (MRI, CT, Ultrasound) and performs image-guided injections if necessary.
Surgery is not always required for some conditions and I am very fortunate to have some excellent Physiotherapy departments in the area.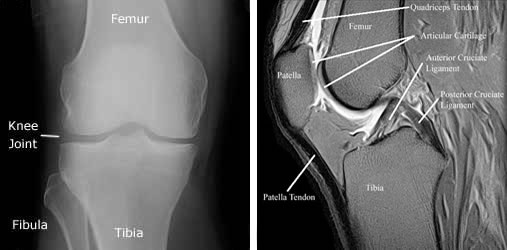 Left: Xray of knee. Right: MRI of knee
If surgery is required, I will advise you as to the most appropriate procedure for your knee condition and fully discuss this with you including potential risks and complications.
Information about some of the commoner knee problems that I treat and the procedures are in this section of the website.