Osteoarthritis of the knee
What is it?
Osteoarthritis (OA) is a chronic degenerative condition of joints characterized by progressive loss of the articular cartilage that covers the joint surfaces.
OA commonly affects the knee and hip.
How does it happen?
There is no obvious cause in most cases, but it is commoner in heavier people and there may be a familial tendency.
Previous injuries to the knee resulting in fractures, ligament, meniscal or chondral damage will predispose to the development of OA.
What are the symptoms?
Symptoms of knee OA can be pain, swelling, stiffness and deformity.
Pain is usually worse with activity and can also occur at rest, particularly at night.
Symptoms usually slowly progress over time and can vary in severity.

X-Rays of a knee with OA
How is it treated?
Treatment depends on a variety of factors including the patient's wishes, level of symptoms, the distribution of OA, patient's age and occupation.
As with all treatments, they can be either operative or non-operative.
Non-operative treatments include:
Exercise – muscle tone decreases stress on articular cartilage
Weight loss
Oral medication & topical creams
Physiotherapy
Knee replacement should be considered when conservative treatments no longer control the symptoms.
The operation is just the beginning of the recovery process and a successful outcome will depend just as much on the post-operative rehabilitation as the operation itself.
My own published research (link to JBJS paper) shows that patients experience an improvement in their replaced knees for up to eighteen months after surgery.
The knee consists of three separate compartments.
In patients with OA in only one compartment then a partial knee replacement can be considered (known as a unicompartmental knee replacement).
Medial Compartment OA
This is the commonest compartment to be affected by OA and is characterized by pain localized to the inner side of the knee.
Medial unicompartmental knee replacements are very successful in the correct patients - any deformity must be correctable, the ligaments must be intact and the knee have a maintained range of motion.
My choice of implant is the Zimmer Unicompartmental Knee System which has a proven track record with excellent long term results in the Joint Registries (these monitor how long the implants last for).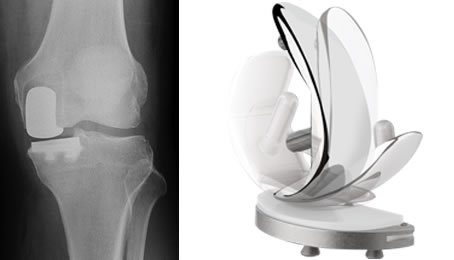 Left: X-Ray of a Medial UKA. Right: UKA implants
Patello-femoral OA
This is OA in the joint between the back of the knee cap (patella) and the front of the thigh bone (femur).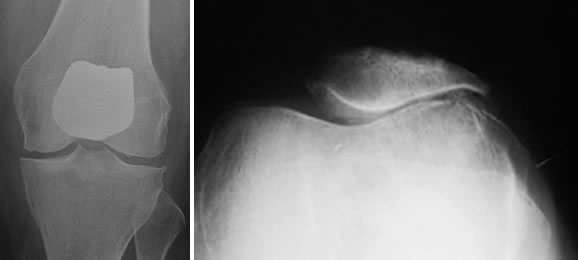 Left: X-Ray of a Patello-femoral replacement. Right: X-Ray of patello-femoral OA
Pain is the predominant feature of patellofemoral OA - it is mainly felt at the front of the knee and is worse on stairs and inclines. Prolonged sitting and driving can be problematic.
For patellofemoral replacements I use the Zimmer Patellofemoral Replacement System.
There are several advantages of partial knee replacement over total knee replacement - the main one being ligament preservation, which makes the knee "feel more like your own knee".
The incisions are smaller and the approaches minimize trauma to the soft-tissues.
As and when they need re-doing (known as Revising), they are straight forward to convert to a total knee replacement.
They may need revising due to loosening or development of OA in the rest of the knee.
Generalized OA
Many patients will have OA in more than one knee compartment or will have had a previous injury that will preclude a partial knee replacement.
These patients will require a total knee replacement - this is where all three joint compartments are replaced.
Total knee replacement is the most commonly performed joint replacement and is very successful at relieving pain and restoring function.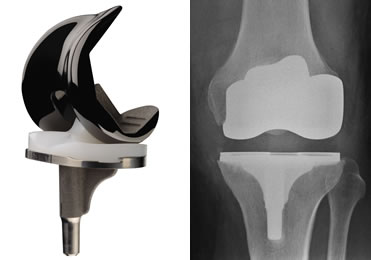 Left: Genesis II Implants. Right: X-Ray of Genesis II TKR
I use the Smith & Nephew Genesis II Total Knee Replacement System - it has the option to use an Oxinium femoral component in patients with high demand or a documented nickel allergy.
The final decision to have a partial or a total knee replacement rests with the patient having discussed the pro's and con's of the procedures with me.
New Technology in Knee Replacement
There has been a great deal of interest in how we can make our joint replacements last as long as possible and give the best functional outcome to our patients.
I now offer a new procedure called "Patient-Specific Instrumentation" to my total and medial unicompartmental knee replacement patients.
The idea behind this technology is to manufacture the guides (jigs) that we use to cut the bones based on x-rays and MRI scans of each patient, so that the jigs are a perfect fit to the patients knee.
For total knee replacements I use the Visionaire system (see article) and for medial unicompartmental knees I use the Zimmer PSI system.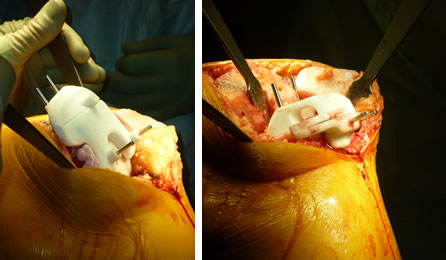 Intra-operative photographs of Visionaire Patient Specific cutting blocks
Revision Total Knee Replacement
When a joint replacement itself needs replacing this is known as revision surgery.
There are many possible reasons that a knee replacement (partial or total) may need revising.
The commonest is loosening of the previous implant.
Revision knee replacement is a major undertaking and involves removing the current implants, removing all cement and implanting a new knee replacement.
I have extensive experience of revision knee surgery and use the Legion Revision System by Smith & Nephew.
My published research shows that revision knee replacements are as successful as primary knee replacements in relieving patients symptoms (Link to JBJS paper).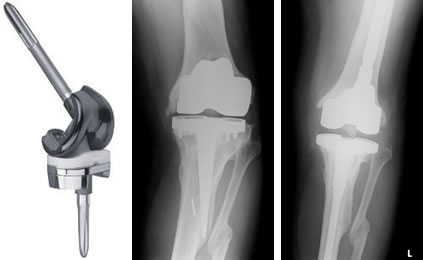 Left: Legion Implants. Middle: X-Ray of failed TKR. Right: X-Ray of Legion Revision TKR
Link to Knee Replacement advice leaflet.