Hip Osteoarthritis
The hip joint is a ball and socket type joint between the top of the thigh bone (femur) and the pelvis (acetabulum).
It is a major load bearing joint and is a common site for development of osteoarthritis (OA).
What are the symptoms?
The symptoms of hip OA are predominantly pain, which is typically felt in the groin and front of the thigh, however some patients present with only knee pain.
What is the treatment?
If symptoms are severe enough and non-operative treatments are ineffective then total hip replacement is considered.
Total Hip Replacement
This involves removing the arthritic joint and replacing it with a plastic cup in the pelvis and a metal stem in the femur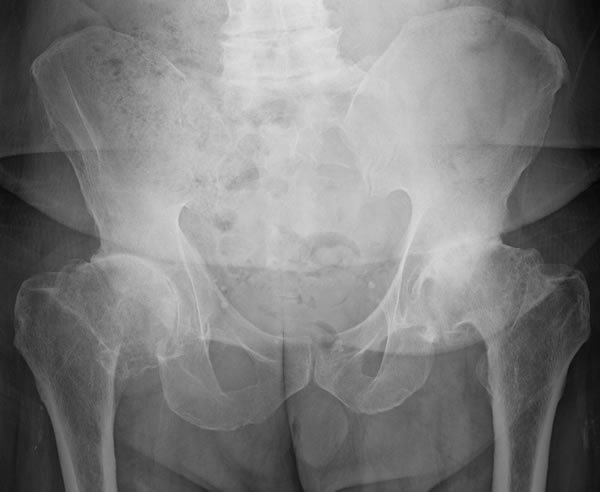 X-Ray of OA Hips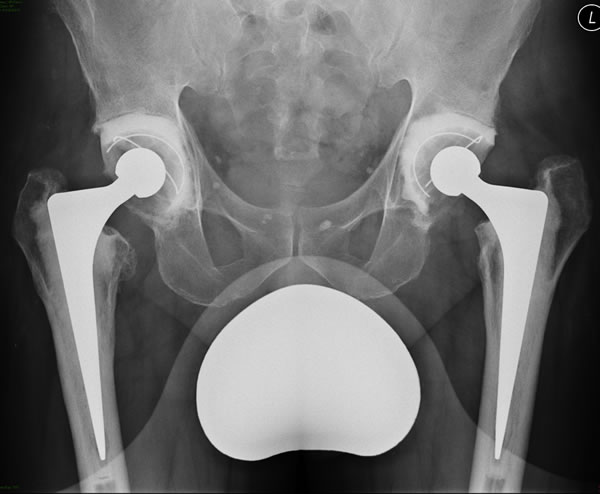 X-Ray of Bilateral Hip Replacements
Hip replacement surgery is very successful in relieving pain and improving function.
There are many different types of implants now available.
The commonest is the cemented implant with a metal on plastic articulation.
I use the Zimmer CPT (collarless, polished, tapered) femoral component and the DePuy Ogee LPW (long posterior wall) acetabular component which is a cemented metal on plastic bearing with excellent long term results.